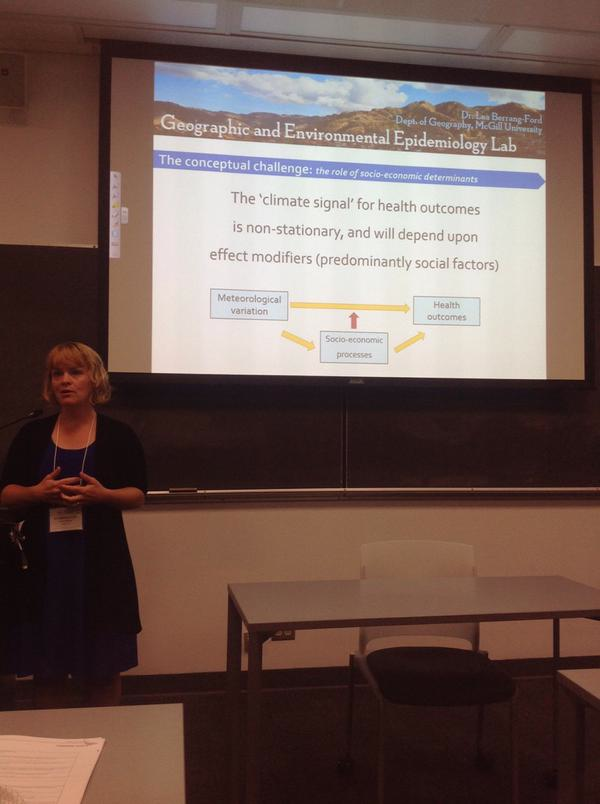 IHACC project researcher and head of the Geographic and Environmental Epidemiology Lab (GEEL) at McGill, Dr. Lea Berrang-Ford attended the 16th International Medical Geography Symposium hosted by Simon Fraser University in early July. She was accompanied by finishing IHACC students Kaitlin Paterson and Sierra Clark, as well as GEEL Research Assistant Isha Berry. All four presented at the event, put on every two-years, attracting medical/health geographers from around the globe, specializing in a range of topics, including infectious and chronic disease, landscapes of health and wellness, politics of geographical research, multi-level modelling, neighborhood effects on health, climate change, and many many more. Kaitlin and Isha presented posters on the first day of the conference (Monday, July 6th). Isha presented on leishmaniasis and political terror while Kaitlin presented on the lived experience of food insecurity among Indigenous Batwa in Uganda. On the second day (July 7th), Dr. Berrang Ford presented in the Climate Change session on the need to address socioeconomic factors as mediators or effect modifiers when looking at the potential impact of climate/weather on health. Kaitlin presented in the Lived Experience of Health Session 2. She presented part of her Masters thesis which took a longitudinal and mixed methods approach to understanding food insecurity among Indigenous Batwa in Uganda. Then Sierra presented at the end of the day in the Infectious Disease Session, on inequalities in bed net ownership after an equitable distribution among Batwa in Uganda and the socioeconomic determinants of retention.
On the fourth day of the confernece (Thursday, July 9th) Sierra presented her poster on the Lived Experience of AGI among Batwa in Uganda which took a mixed methods approach to understanding the perceived severity of illness, the multiple consequences of illness, and the perceived barriers and benefits to taking preventative actions. The rest of the conference, which went on until the 10th, was spent networking, enjoying amazing presentations by fellow colleagues, and taking in all that Vancouver has to offer.
For more information on the team's activities at IMGS2015, click here.